The national "Call Before You Dig" number (811) was created to help protect individuals from unintentionally hitting underground utilities when digging. Every digging job requires a call, even for small projects like planting trees or shrubs.
Dialing 811 sends your call to the One Call Center in your area for processing. Your local One Call Center records the location of the proposed excavation and notifies the affected pipeline operators and underground utility companies of your plans. Operators then dispatch a professional locating crew to mark the approximate location of their lines, utilizing small, color-coded flags.
Do not assume you already know the location or depth of a pipeline. Pipeline markers may not indicate its precise location. Contact your local One Call Center at least 48 hours before starting the work. The Common Ground Alliance provides state-specific information and a list of best practices. Learn more about local pipelines from the National Pipeline Mapping System.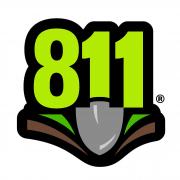 If you make any contact—however minor—with one of our pipelines during your excavation work, call us immediately at 1-800-537-5200, so we can check for possible damage. Thank you for helping all of us remain safe.
Confirming existing pipelines videos

---