Carbon Capture and Storage, or CCS, is a process that will allow industries that emit carbon dioxide (CO2) to both maintain their business plans and reduce CO2 emissions by using special equipment to remove the CO2 from their facilities' exhaust before it reaches the air. Once captured, the CO2 can be transported by pipeline – in either a gaseous state or in a highly compressed, almost liquid, state – to underground reservoirs that are certified for the safe and permanent storage of CO2.
Pipelines have been safely transporting CO2 for more than 50 years, and an expanded CO2 pipeline network can create new well-paying construction jobs, help sustain industrial jobs and reduce CO2 emissions.
CO2 pipeline construction safety
---
ExxonMobil Pipeline Company focuses on safety and quality assurance through every step of the construction process, from project planning and design, to the manufacture and transportation of pipe, assembly and lay-in, and ultimately system start-up and restoration of the right-of-way. Federal and state regulators periodically inspect the construction sites to certify construction regulations are being properly followed.
CO2 pipeline operations safety
---
Current federal law and government pipeline safety regulation require carbon dioxide (CO2) pipeline operators to proactively inspect their pipelines and conduct preventive maintenance. Pipeline personnel monitor operations 24/7. CO2 pipelines are constructed with high-grade steel and a protective coating to help prevent corrosion.
Learn more about ExxonMobil Pipeline Company's operations integrity management system.
Federal government pipeline safety requirements
---
Congress in the Pipeline Safety Reauthorization Act of 1988 required the U.S. Department of Transportation (DOT) to regulate carbon dioxide (CO2) liquid pipelines.
In 1989, the U.S. Department of Pipelines and Hazardous Materials Safety Administration (PHMSA) expanded its federal regulations for similar liquid pipeline systems like crude oil and refined products to also cover CO2 pipelines.
PHMSA inspects and enforces compliance with potential fines on pipeline operators violating federal CO2 pipeline safety requirements.
CO2 pipeline safety record
---
Publicly available government pipeline safety data collected by PHMSA shows carbon dioxide (CO2) pipeline incidents are rare.
CO2 pipelines have a lower incident rate than both crude oil and refined products pipelines, which are already low.
CO2 pipelines have been safely and reliably transporting carbon dioxide more than 50 years with zero fatalities.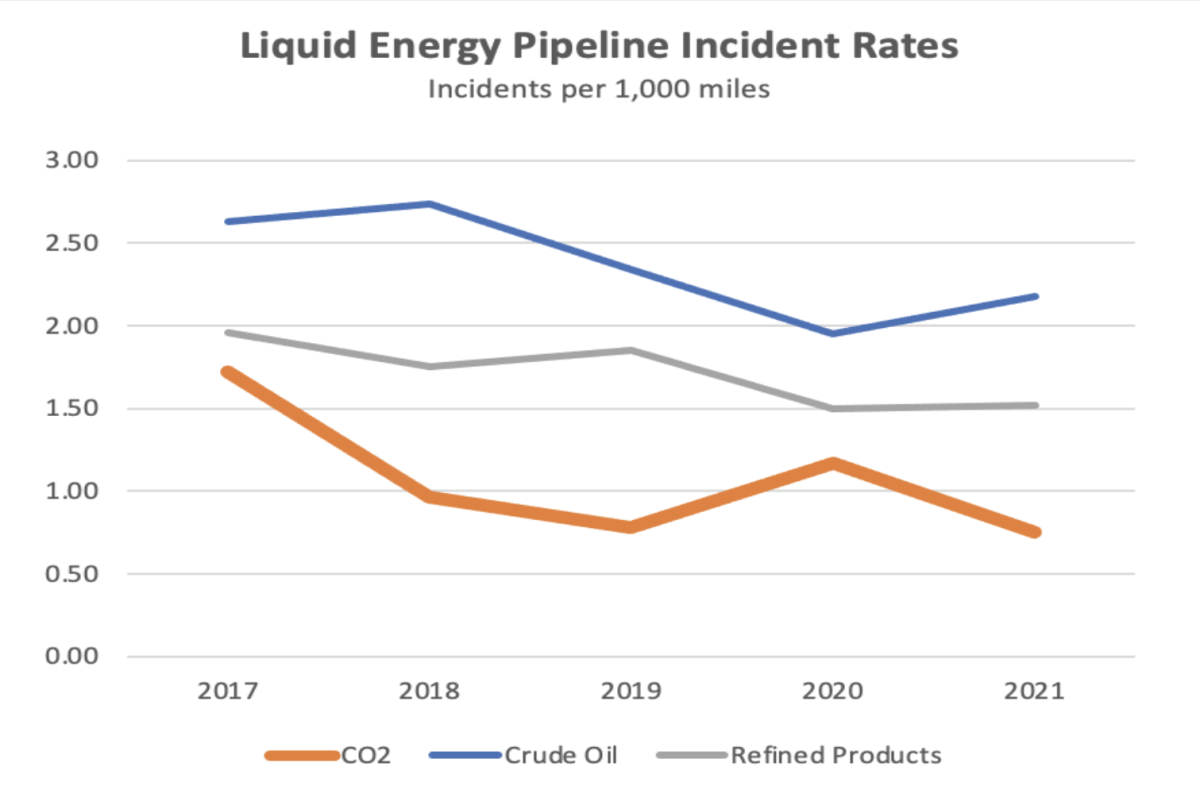 Why do we need more CO2 pipelines?
---
Storage:

North America has some of the largest known carbon dioxide (CO2) storage capabilities in the world – and produces a large amount of carbon emissions.

Lower-carbon energy future:

Achieving our lower-carbon energy future will require connecting these storage sites with the technology that captures the carbon emissions at their source.

Safest transport:

The safest, proven way to transport these captured emissions is by pipeline. CO2 has been transported safely by pipeline in the U.S. for decades, and currently there are more than 5,000 miles of CO2 pipelines operating in the U.S.

Benefits:

We will need to greatly expand this pipeline network to take advantage of the benefits CCS promises for our local communities, our heavy industries, and our nation. Some studies suggest we will need 60,000 more miles of CO2 pipelines by 2050.